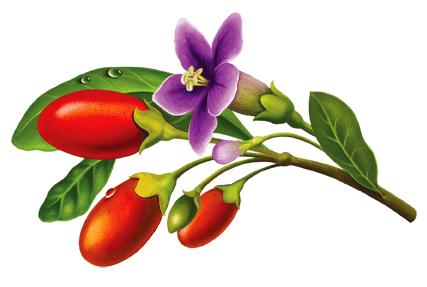 Other customers also bought:


100% organic juice exclusively from the fresh fruits of Lycium chinense. Juice carefully cold-pressed exclusively from the fresh, hand-picked fruits of Lycium chinense. The plants' alpine origin and the arduous climatic conditions in which they grow result in a unique concentration of nutrients. This drink is an elixir of youth, health and beauty, with an unmistakable characteristic hue and, most importantly, a premium flavour and aroma. Goji Juice is suitable for the whole family, starting with children from three years of age. Recommended dosage: 25 ml of juice per day.

100% organic Lycium chinense seed oil The pure essence and the top product from Lycium is its oil, gently extracted from the seeds of its fruits. This very costly and demanding production process yields a highly concentrated cocktail of active ingredients in perfectly balanced proportions with a variety of uses. Goji Oil made from Lycium seeds gives your body the vitality it needs and keeps you energised the whole day. As many as thirty Lycium fruits are needed to collect a single drop of this oil. Recommended dosage: Adults: 2-7 drops, 1-3 times per day. Children from 3 years: 1-3 drops per day.

Organic extract from Lycium chinense fruit in a plant-based capsule. Powder is obtained from the fruit of the Lycium by cold drying, which retains the full range of Lycium nutrients. The concentrated powder is then filled into plant-based capsules, making it a vegan-friendly dietary supplement. Goji capsules give your body the vitality it needs and keep you energised the whole day. High in natural antioxidants, they also help to detoxify the organism and are a fitting supplement for various types of diet. Ingredients: Organic extract from Lycium chinense fruit (500 mg), plant-based capsule, filling – vegetable magnesium stearate (10 mg). Recommended dosage: 1 capsule twice a day