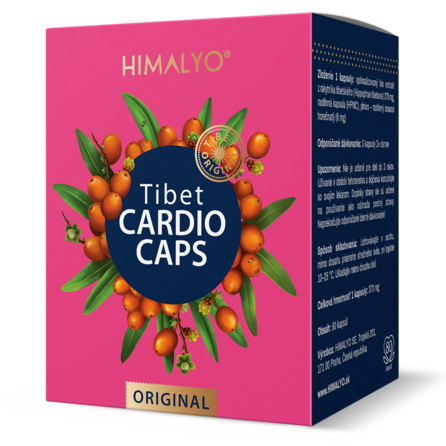 Tibet CARDIO Caps

|

80 cps
| | |
| --- | --- |
| Price excl. VAT | |
| Price incl. VAT | |
| Availability | in stock |
| Quantity | |

A natural product of Himalayan medicine that supports proper heart function. High in Omega 7.
- Dietary Supplement -
Sea buckthorn has many benefits for the human body. One of the most important is its positive effect on heart health. It contributes not only to the proper functioning of the heart muscle, but also to the normal functioning of the entire cardiovascular system.
To achieve the maximum possible benefit of sea buckthorn, it is necessary to use a high-quality variety from which the most valuable nutrients that benefit the heart's activity are extracted.
Therefore, for the production of Tibet Cardio, we use exclusively Tibetan sea buckthorn grown only on the Tibetan Plateau, which has significantly higher concentrations of nutrients than the more common sea buckthorn, which is widespread in Europe. The patented ingredient in Tibet Cardio Caps, CardiOmegia , which is extremely rich in Omega 7 fatty acids, is obtained from this rare alpine variety of sea buckthorn by using a demanding extraction process.
This natural product from the highlands of the Himalayas can be enjoyed by the whole family, even children from 3 years, or vegetarians. The capsules are made exclusively of plant substances.
Ingredients 1 capsule: optimized organic extract of sea buckthorn (Hippophae tibetana) 270 mg, herbal capsule (HPMC), filler - vegetable magnesium stearate (6 mg)
Recommended Dosage: 3 capsules twice a day
Warning: Not intended for children under 3 years. During pregnancy and lactation consult your doctor before use. Dietary supplements are not intended to be used as a substitute for a balanced diet. Do not exceed the recommended daily dosage! Store in a dry place, out of direct sunlight, at a temperature of 10-25 ° C. Keep out of reach of children.
Net weight: 30 g