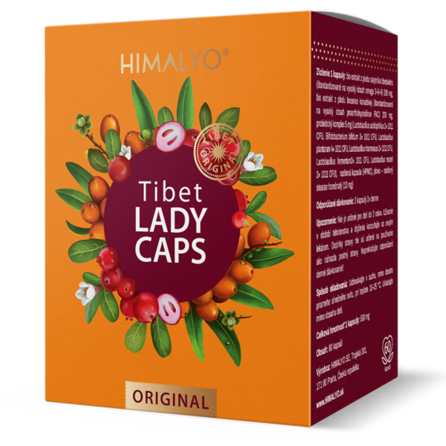 Tibet LADY Caps

|

60 cps
| | |
| --- | --- |
| Price excl. VAT | |
| Price incl. VAT | |
| Availability | in stock |
| Quantity | |

A purely natural extract from the fruits of the Tibetan sea buckthorn and cranberries, enriched with a unique probiotic complex developed for the specific needs of women in their intimate area.
- Dietary Supplement -
Most women face so-called "women's problems" - urological and gynecological ailments - frequently during their lives. In order to avoid the need for repeated treatment, it is better to prevent problems and take care of the intimate area properly.
Tibet Lady was developed with the specific needs of women in mind. It contains a unique combination of plant extracts from the highest quality varieties of cranberry and the sea buckthorn. In addition, these components are enriched with a unique probiotic complex designed especially for women.
Tibet Lady ingredients have the following benefits for women's health:
They act as an antioxidant and have a positive effect on the overall condition of the body
They have a positive effect on healthy sleep and help manage stress
They support the body's natural defenses
Ingredients 1 capsule: organic sea buckthorn fruit extract (standardized for high Omega 3-6-9 content) 200 mg, Canadian cranberry fruit extract (standardized for high content of proanthocyanidins PAC) 200 mg, probiotic complex 5 mg (Lactobacillus acidophilus 1 x108 CFU, Bifidobacterium bifidum 1 x 108 CFU, Lactobacillus plantarum 1 x 108 CFU, Lactobacillus rhamnosus 1 x 108 CFU, Lactobacillus fermentum 1 x 108 CFU, Lactobacillus reuterii 1 x 108 CFU), plant capsule (hydroxypropylmethylcellulose), filler (10 mg).
Recommended Dosage: 2 capsules twice a day
Warning: Not intended for children under 3 years. During pregnancy and lactation consult your doctor before using. Dietary supplements are not intended to be used as a substitute for a balanced diet. Do not exceed the recommended daily dosage! Store in a dry place, out of direct sunlight, at a temperature of 10-25 ° C. Keep out of reach of children.
Net package weight: 30 g