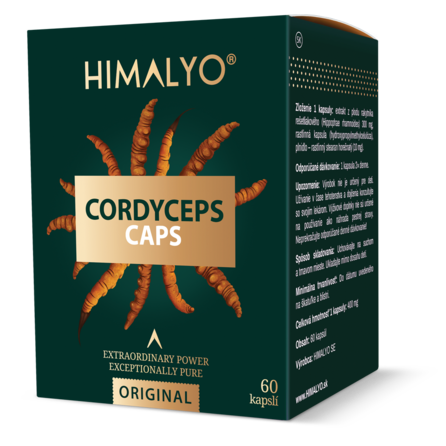 CORDYCEPS Caps

|

60 cps
| | |
| --- | --- |
| Price excl. VAT | |
| Price incl. VAT | |
| Availability | in stock |
| Quantity | |


A high-quality extract from the rare Tibetan mushroom, Cordyceps sinensis. Polysaccharides 40%, Mannitol 15%.
- Dietary Supplement –
Plant (vegan) capsules enclose a gently prepared and undiluted extract taken from the rare mushroom Cordyceps sinensis. The collection of the mushrooms takes place in Tibet at altitudes above 4,000 meters. Cordyceps is considered a living Tibetan gold and has been part of the golden fund of Chinese and Tibetan medicine for centuries. Due to its specific environmental requirements, it is very rare and difficult to harvest. It currently grows only on the Tibetan Plateau, in Nepal and in the mountains of China's Qinghai Province. Due to these factors, Cordyceps was, for centuries, reserved exclusively for the Chinese Emperor and his chosen ones. Currently, Cordyceps is widely used and is very popular with top endurance athletes and in demanding professions that require high levels of performance.
Composition of 1 capsule: Extract from Cordyceps sinensis 334 mg (Polysaccharides 40%, Mannitol 15%.), plant capsule (hydroxypropyl methylcellulose), oyster mushroom extract in a concentration of 30: 1 (Pleurotus ostreatus) 8.7 mg, filler - vegetable magnesium stearate (7 mg).
Recommended Dosage: 1 capsule twice a day.
Warning: Increase fluid intake while taking the product. Not intended for children under 3 years. During pregnancy and lactation consult your doctor before use. Dietary supplements are not intended to be used as a substitute for a balanced diet. Do not exceed the recommended daily dosage! Store our of direct sunlight, at a temperature of 10 - 25 ° C. Keep out of reach of children.
Net weight: 27 g