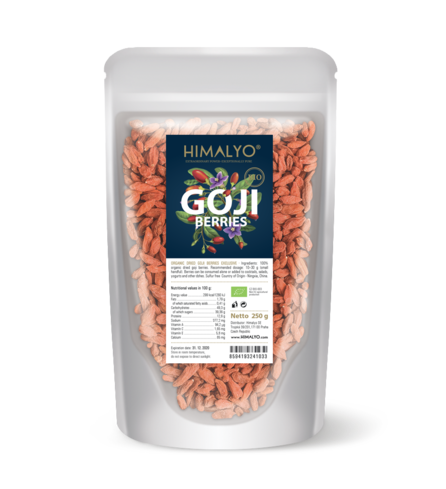 GOJI Dried Fruits BIO

|

250 g
| | |
| --- | --- |
| Price excl. VAT | |
| Price incl. VAT | |
| Availability | in stock |
| Quantity | |




Large and tasty dried fruits of Lycium Chinense grown in the pristine environment of the Tibetan plateau.
- Food Product -
The fruits of HIMALYO GOJI PREMIUM are harvested on the Tibetan Plateau, where they are exposed to intense sun and harsh forces of nature. Like most crops that ripen at high altitudes and in clean environments, they boast unique strength and a high concentration of nutrients. They are thus completely unique and have no competition among commonly available fruits.
They are visibly bigger, sweeter and more nutritious.
The fruits are sulphur-free and in their pure natural form.
In traditional Chinese medicine, goji fruits have been long used primarily as a tonic to prolong life. In the Himalayas, goji has long been called the "fruit of longevity," the "fruit of immortality," or "the secret of beauty and eternal youth."
Ingredients: 100% dried fruits of Lycium Chinense.
Recommended Dosage: 30 g (2 handfuls) of dried fruit per day.
Warning: Store up to 25 °C, do not expose to direct sunlight.