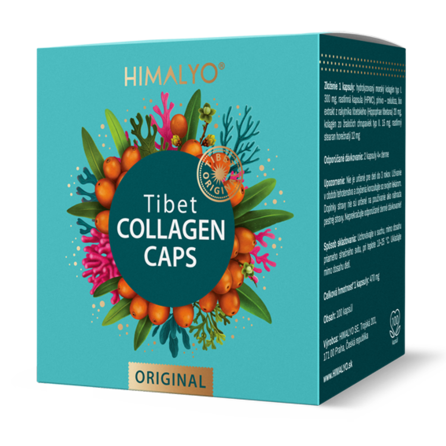 Tibet COLLAGEN Caps

|

100 cps
| | |
| --- | --- |
| Price excl. VAT | |
| Price incl. VAT | |
| Availability | in stock |
| Quantity | |

Type I and Type II hydrolysed marine collagen enriched with Tibetan sea buckthorn extract.
- Dietary Supplement -
Collagen is associated with beauty, primarily for its ability to preserve the human body's youth. The human body can make collagen itself, but from the age of 25 its production decreases, and from the age of 45, collagen almost completely ceases to form.
Tibet Collagen capsules contain an optimal ratio of the two most important types of collagen for the human body: Type I and Type II. Recent research, however, emphasizes that the form of collagen and the way it is administered to the body are both critically important.
Tibet Collagen differs from commonly available collagen products by its emphasis on collagen's natural absorption into the human body and its maximum incorporation into skin structures. In order to achieve this optimal result, Tibet Collagen capsules contain a cleaved or hydrolyzed form of collagen which is much easier to absorb. In addition, they are enriched with Tibetan sea buckthorn since it is known that the human body can replenish collagen only in the presence of a sufficient amount of Vitamin C.
The administration of collagen in the form of capsules allows for gradual dosing during the day, which is also crucial for optimal absorption.
Composition of 1 capsule: hydrolyzed marine collagen Type I. 300 mg, plant capsule (HPMC), filler - cellulose, organic extract of Tibetan sea buckthorn (Hippophae tibetana) 20 mg, collagen from shark cartilage Type II. 15 mg, vegetable magnesium stearate 12 mg
Recommended Dosage: 2 capsules 4 times a day
Warning: Not intended for children under 3 years. During pregnancy and lactation consult your doctor before using. Dietary supplements are not intended to be used as a substitute for a balanced diet. Do not exceed the recommended daily dosage! Store in a dry place, out of direct sunlight, at a temperature of 10-25 °C. Keep out of reach of children.
Net weight: 30 g