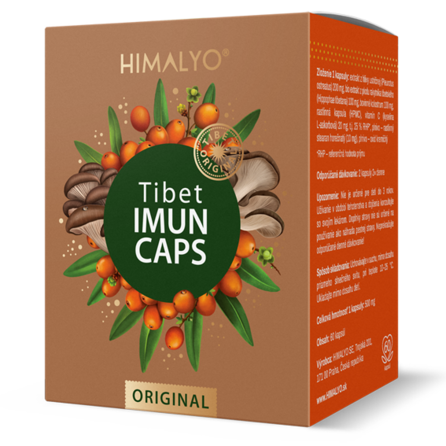 Tibet IMUN Caps

|

60 cps
| | |
| --- | --- |
| Price excl. VAT | |
| Price incl. VAT | |
| Availability | in stock |
| Quantity | |

A combination of natural extracts considered to be the holy grail of immunity: Tibetan sea buckthorn, oyster mushroom and colostrum.
- Dietary Supplement -
Plant capsules enclose a unique combination of natural substances that are considered essential immunity boosters: dried extracts of oyster mushrooms and fruits of the Tibetan sea buckthorn, bovine colostrum and Vitamin C.
The natural ingredients contained in Tibet Imun caps have the following positive benefits for human health:
Support the proper functioning of the immune system
Help reduce fatigue and exhaustion
Have a positive effect on the proper heart function and the cardiovascular system
Promote healthy sleep and contribute to normal mental activity
Have antioxidant effects and have a positive effect on the overall condition of the body
Ingredients 1 capsule: oyster mushroom (Pleurotus ostreatus) extract 200 mg, organic Tibetan sea buckthorn extract (Hippophae tibetana) 100 mg, bovine colostrum 100 mg, herbal capsule (HPMC), vitamin C (L-ascorbic acid) 20 mg, ie 25% RDI*, filler - vegetable magnesium stearate (10 mg), filler - silica
* RDI - Reference Daily Intake
Recommended Dosage: 2 capsules twice a day
Warning: Not intended for children under 3 years. During pregnancy and lactation consult your doctor before use. Dietary supplements are not intended to be used as a substitute for a balanced diet. Do not exceed the recommended daily dosage! Store in a dry place, out of direct sunlight, at a temperature of 10-25 ° C. Keep out of reach of children.
Net package weight: 30 g