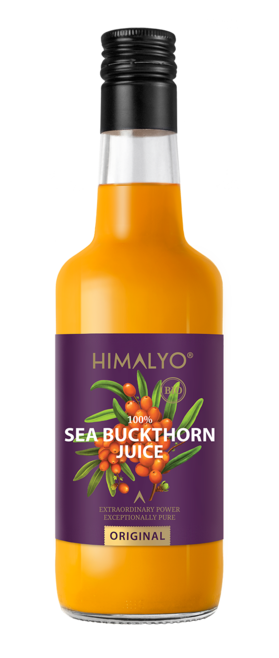 SEA BUCKTHORN 100% Juice BIO

|

350 ml
| | |
| --- | --- |
| Price excl. VAT | |
| Price incl. VAT | |
| Availability | in stock |
| Quantity | |




Elixir for immunity– a purely natural juice from the alpine variety of the Tibetan sea buckthorn. Without dilution or preservatives.
- Food Product –
The cold-pressed juice is made exclusively from the fruits of the original alpine variety of Tibetan sea buckthorn. Hand-picked, ripe fruits guarantee an extremely high content of nutrients.
Sea buckthorn juice has a very specific taste and aroma, which may seem off-putting at first. Although the Tibetan sea buckthorn tastes more pleasant than common varieties of sea buckthorn and many consumers enjoy its taste, it is important to take into account that it may not appeal to your taste buds. In this case, we offer practical alternatives in the form of sea buckthorn capsules and oil.
Contributes to the proper functioning of the immune system
Has a positive effect on heart health
Supports the proper functioning of the digestive tract
Has a positive effect on skin health
Is an important antioxidant
Sea buckthorn juice is suitable for the whole family, it can be consumed by children from 3 years of age.
Ingredients: 100% Tibetan sea buckthorn juice in certified BIO quality.
Recommended Dosage: 25 ml of juice per day.
Warning: Store at room temperature away from direct sunlight. Once opened, do not store above 5 °C and consume within 30 days. Do not consume directly from the bottle. The stratification of the juice when the contents of the bottle settle is a natural phenomenon, not a defect. For a better taste sensation, we recommend mixing with water or fruit juice, or adding to a smoothie.