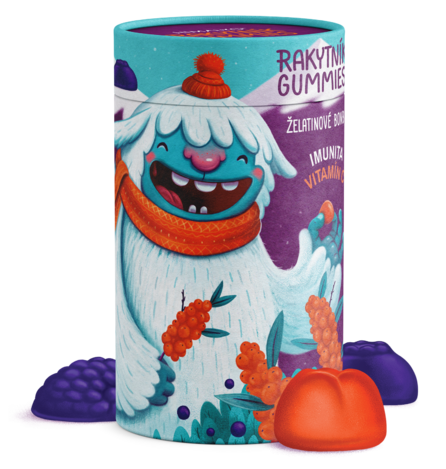 Yetti Sea Buckthorn Gummies

|

60 x gummy candies
| | |
| --- | --- |
| Price excl. VAT | |
| Price incl. VAT | |
| Availability | in stock |
| Quantity | |


Healthy sweets from the highlands of the Himalayas to support immunity. High in Vitamin C and other nutrients.
- Dietary Supplement -
A natural product from the highlands of the Himalayas full of beneficial extracts of sea buckthorn, cranberry and Vitamin C. Sea Buckthorn Gummies are suitable for vegetarians, as the product does not contain animal gelatin.
The balanced content of highly concentrated extracts of sea buckthorn and cranberry has many benefits for the human body:
Supports the proper functioning of the immune system
Has a positive effect on heart health and the cardiovascular system
It has antioxidant effects and has a positive effect on the overall condition of the body
Helps reduce fatigue and exhaustion
Supports proper digestive function
Ingredients: 1 sea buckthorn gummy candy (3g): 150 mg extract from the fruit of the Tibetan sea buckthorn (Hippophae tibetana), Vitamin C - L-ascorbic acid (95 mg, i.e. 118.7% RDI*); 1 sea buckthorn gummy candy (2g): 85 mg extract from the seed of the Tibetan sea buckthorn (Hippophae tibetana); 1 cranberry gummy candy (2g): 50 mg cranberry fruit extract (Vaccinium vitis-idaea); other ingredients: malt syrup, sugar, glucose, emulsifier: pectin, acidity regulator: sodium citrate and citric acid, coconut oil.
* RDI – Reference Daily Intake
Recommended Dosage: Adults - 2 gummy candies twice a day, Children from 3 years - 1 gummy candy twice a day
Warning: Not intended for children under 3 years. Dietary supplements are not intended as a substitute for a varied and balanced diet. Do not exceed the recommended daily dosage! Store in a dry place, out of direct sunlight, at a temperature of 10-25 ° C.
Total weight: 140 g / 2x 30 pieces of gummy candies