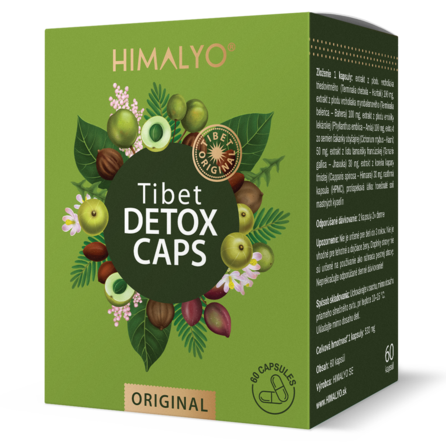 Tibet DETOX Caps

|

60 cps
| | |
| --- | --- |
| Price excl. VAT | |
| Price incl. VAT | |
| Availability | in stock |
| Quantity | |



A purely natural product of Himalayan medicine which cleanses the body and supports digestion and excretion.
- Dietary Supplement –
Herbal capsules contain a unique blend of natural extracts that act as an antioxidant and help the normal functioning of the liver, intestinal tract and urinary tract. These natural extracts are often used in detox and reduction diets and to restart the body after a long winter.
The natural ingredients contained in Tibet Detox have the following positive benefits for human health:
• Help cleanse the body, support normal digestion, excretion and bowel movement.
• Support the proper function of the liver, intestinal tract and urinary tract.
• Help maintain normal cholesterol and glucose levels in the blood.
• Act as an antioxidant.
• Support the normal condition of the skin, bones and joints.
Tibet Detox is not suitable for pregnant and lactating women, dehydrated individuals or people suffering from weakened systems .
Ingredients of 1 capsule: 1 capsule: Chebulic Myrobalan fruit extract (Terminalia chebula - Haritaki) 100 mg, Belleric Myrobalan fruit extract (Terminalia bellirica - Bahera) 100 mg, Phyllanthus emblica (Amla) fruit extract 100 mg, herbal capsule (HPMC ), chicory seed extract (Cichorium intybus - Kasni) 50mg, French tamarisk leaf extract (Tamarix gallica - Jhavuka) 30 mg, caper bush extract (Capparis spinosa - Himsara) 30 mg, anti-caking agent: magnesium salts of fatty acids
Recommended dosage: 2 capsules twice a day
Warnings: Not intended for children under 3 years. During pregnancy and lactation consult your doctor before using. Dietary supplements are not intended to be used as a substitute for a balanced diet. Do not exceed the recommended daily dosage! Store in a dry place, out of direct sunlight and reach of children, at a temperature of 10–25 °C.
Net product weight: 30 g